FACEbook pay carding method 2023 and a BIN INSTANT CASHOUT: Just like with PAYPAL , carding Facebook Pay is simple. Facebook Pay is a safe method of payment in more locations than ever. Making a payment with a CVV is straightforward with Facebook Pay. You can use Facebook Pay on a desktop or a mobile device to make in-app purchases. Regardless of whether you give or receive money, making payments is free.
STEP 0: CLICK HERE HOW TO CHOOSE NON VBV CC
I'll write about it in this article. Where to use the Facebook payment method, Facebook Pay carding bins, and Facebook Pay carding methods.
Facebook Pay Carding: What does it mean? Credit card theft known as "Facebook Pay Carding" occurs when criminals use stolen cards to withdraw money through Facebook Pay, which is comparable to Google Pay.
click here to join our private telegram channel
facebook pay carding method step by step guide
You must learn how to cash out a credit card using Facebook Pay in this carding tutorial. Although it's not necessary to have finished the prior tutorial in order to understand what's happening here, it's a good idea to go through the Introduction to Carding if you're unfamiliar with the carding ecosystem. It will provide you with a strong base from which to work.
One benefit of using Facebook Pay carding over alternatives is that you can send and receive payments as well as easily divide costs among several people. It's a gold mine for carders because transactions can't be reversed.
Always keep in mind that debit card payments virtually instantly remove money from your checking account. Before you use Facebook Messenger to make a payment, make sure your card has enough money in it to prevent overdraft fees, bounced checks, and other issues.
how much money as acarder can you make carding facebook pay
Facebook's Facebook Pay service has no payment restrictions. You should be able to send as much as is in your bank or credit card balance (Make sure cc you have bought have enough fund e.g buy Gold, Infinity or Signature cards since they tend to have high balances).
Requirements for facebook pay carding method
Although using Facebook Pay with a card feels simple and casual, using Messenger to conduct transactions has a number of requirements:
VPN OR SOCKS5 MATCHING CC HOLDERS LOCATION
A virtual private network (VPN) allows users to send and receive data through shared or public networks as though their computing equipment were directly linked to the private network by extending a private network across the latter.
CC from a trustworthy source Payments must be funded using a PayPal account or a Visa or MasterCard debit card authorized by a U.S. bank. Some prepaid cards might also function.
YOU'LL NEED TWO FACEBOOK ACCOUNTS (One for sending money and one for receiving)
Due to its superior security, a Computer is encouraged. For smart phones, rooting is suggested for security reasons
.
ALL MEMBERS WHO PARTCIPATE IN THID METHOD MUST BE IN US IF NOT USE VPN OR RPD PLEASE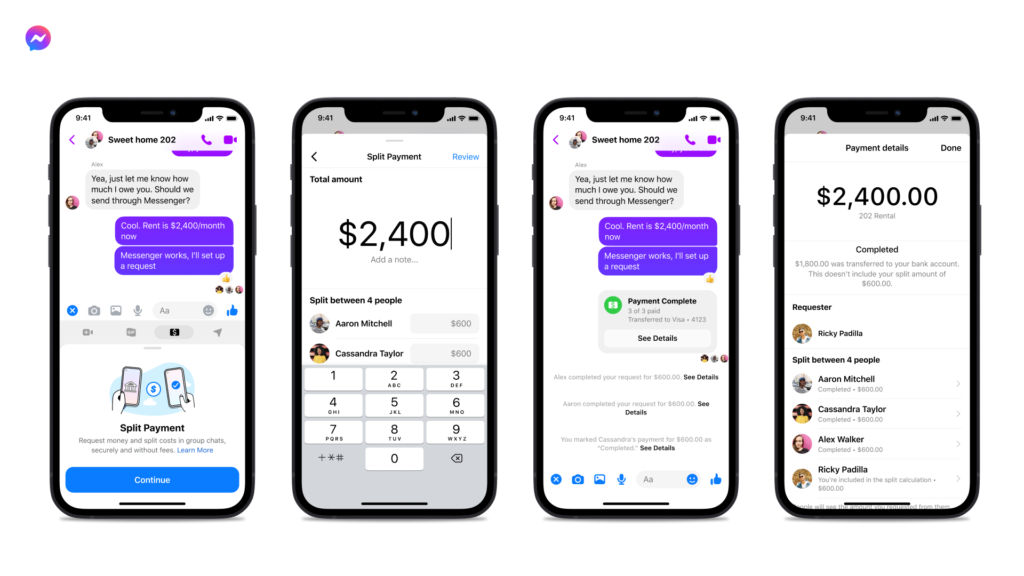 step by step guide to do facebook pay carding method
It's almost as simple to card Facebook Pay as it is to send a private message. The procedures for using Facebook Pay are the same whether you transmit through the Messenger app or the Facebook website:
Purchase a credit card and fill out all the fields (ADDRESS, ZIPCODE FOR EXTRA INFO, DOB OR SSN).
Access your Facebook profile. Go to Messenger and tap the recipient's name.
For additional actions, tap the "+" symbol. Go down until you see "Send or Request Payment" using the "$" icon.
Please enter the desired donation amount. To send the money, click the "Pay" button.
A "Next" button will appear in place of the "Pay" button if you have never given Facebook your credit card information.
When you finish,. Where you type in the credit card information you purchased from HERE, add a payment method.
You may send more than $150 to an account that is already old.
I advise sending $30 or $25 at a time if you are sending to a regular account.
Depending on the card you choose, adding a comment like "for lunch" or "for out of town for ride" should confirm. If you want good striking cc, take note. I'll give them to you.
Log into the account you sent money to, then use CashApp or Chime to withdraw money.
(The CC or Chime/Cashapp names do not have to match the FB account names.) I advise purchasing Facebook, Chime, and Cashapp logs. If you don't know how to get them contact me
list of bins used for facebook pay carding method
BINs (Bank Identification Numbers) definition, cards bins picture The initial group of four to six numbers that appears on a credit or debit card is known as a bank identification number (BIN).
The top BINs for carding are shown here.
Visa Debit Infinite 436534 ICICI Bank, Ltd.
VISA DEBIT CLASSIC SYNDICATE BANK, 401375
SBI CARDS AND PAYMENT SERVICES PTE, LTD. IN 403250 VISA CREDIT SIGNATURE
DINERS CLUB CREDIT STANDARD, 301999
BANK, LTD. IN 436388 VISA CREDIT GOLD KOTAK MAHINDRA
VISA CREDIT SIGNATURE 430463 CITIBANK
UNION BANK 437366 VISA DEBIT PREPAID
CLASSIC AXIS BANK, LTD. IN 405663 VISA DEBIT
FAQs about facebook pay carding method
How does the Facebook Payment structure operate?
A tool called Facebook Pay enables users to send money to friends and companies on the Facebook site. Users can link their preferred payment method, such as a credit or debit card, and use it to send money, make purchases, or donate to charitable organizations.
What is the Facebook Pay setup process?
A: Go to your Facebook settings and choose "Facebook Pay" to set up Facebook Pay. From there, you may modify your payment preferences, add a payment method, and create a security PIN.
Can I buy things on other websites or applications using Facebook Pay?
A: No, you can only use Facebook Pay on Facebook's platform, which includes Facebook, Messenger, and Instagram.
Does using Facebook Pay cost money?
A: Using Facebook Pay to send money to friends and family or make payments is free. However, using the feature to accept payments may incur a small transaction fee for businesses.
Facebook Pay: Is it safe?
A: To protect user information and transactions, Facebook Pay employs robust encryption technology and numerous layers of protection. Additionally, users can set up a security PIN to safeguard their accounts.
Can I send money overseas using Facebook Pay?
A: Facebook Pay users can currently only pay money to friends and family members who live in the same nation. However, the business intends to develop the function in the future to enable international money transfers.
How do I reverse a Facebook Pay transaction or cancel a payment?
A: By getting in touch with the recipient or company directly, you can revoke a payment or ask for a refund. The recipient or business can start the refund procedure through Facebook Pay if the payment is eligible for one.
click here to join our private telegram channel
Conclusion in facebook pay carding method
In conclusion, using a Facebook Pay card provides a quick and safe way to make purchases on the Facebook platform and in other apps. Users can utilize cvv fullz to withdraw cash, make purchases from merchants, and donate money to charitable organizations fast and easily. Users may feel secure knowing that their transactions are secure thanks to the extensive security features it has, like account verification and encryption. Overall, Facebook Pay is a useful addition to the platform of the social media behemoth, giving users a simple and seamless payment experience.
For reading our carding post, we thank you.
LOVE IT AND BE SAFE
other carding method